Penn Graduate Information
Class of 2023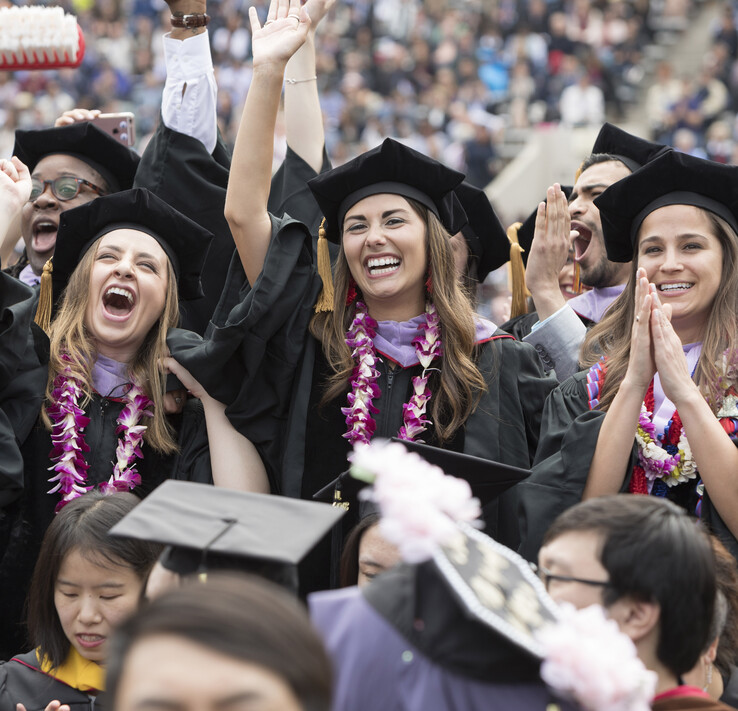 Congratulations on your upcoming Penn graduation!
Penn's 267th Commencement ceremony will take place on Monday, May 15, 2023 in Franklin Field at 10:15 a.m., and is preceded by student and academic processions through campus. The ceremony will end at approximately 12:15 p.m. and will feature the conferral of degrees, the awarding of honorary degrees, greetings by University officials, and remarks by the Commencement speaker, Idina Menzel, Tony Award-winning actress, singer/songwriter, producer, and author.
1. Instructions for Student Assembly
If you plan to participate in Commencement, arrive 39th Street and Locust Walk (near the high rises) no later than 8:45 a.m. in your academic regalia. Signs will direct you to the assembly area for your school. M.A., M.S., and Ph.D. candidates should meet in the section "Graduate Faculties," regardless of school. Marshals will be on hand to direct you.
Please be prompt! If you arrive late or are not wearing academic regalia, you will not be able to march and sit with your classmates.
STUDENT ASSEMBLY AREA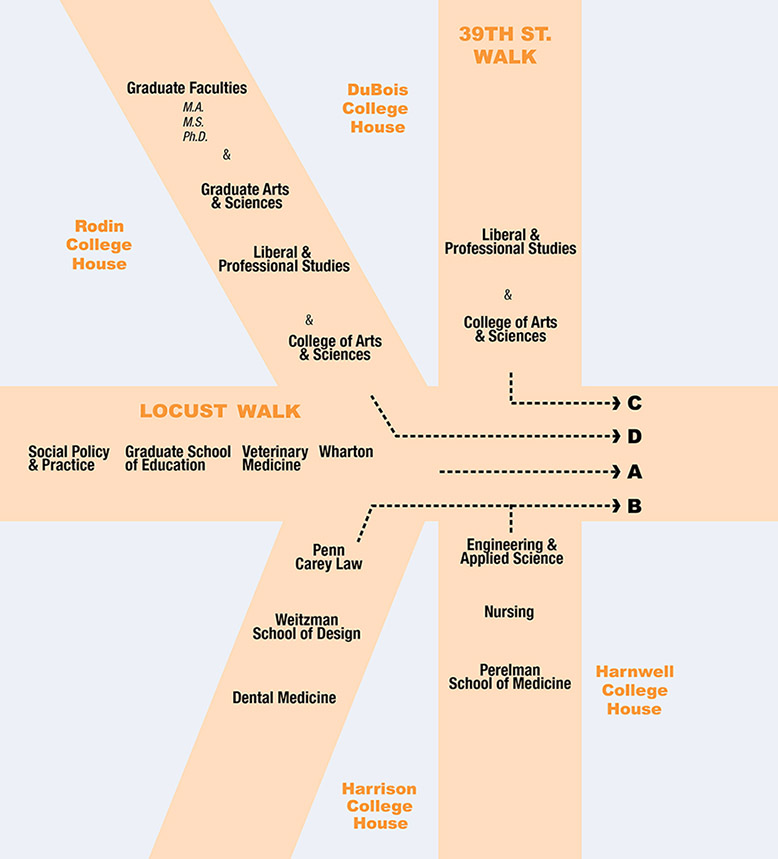 2. Instructions for Student Procession
As you process across campus to Franklin Field, walk briskly, and make sure there are no gaps in front of you. If you want to sit with friends on the field, line up in front of or behind the person you want to sit next to. The student procession will enter the stadium in four columns. Below is a diagram of the procession route, from 39th & Locust Walk to Franklin Field.
You will be seated on the field according to your school. When you reach your row, move into it quickly and do not leave any empty seats. Sit down immediately. There will be a stack of Commencement Programs on the end seats. If you sit in this chair, please take one Program and pass the rest down. There will be bottled water at the field for you.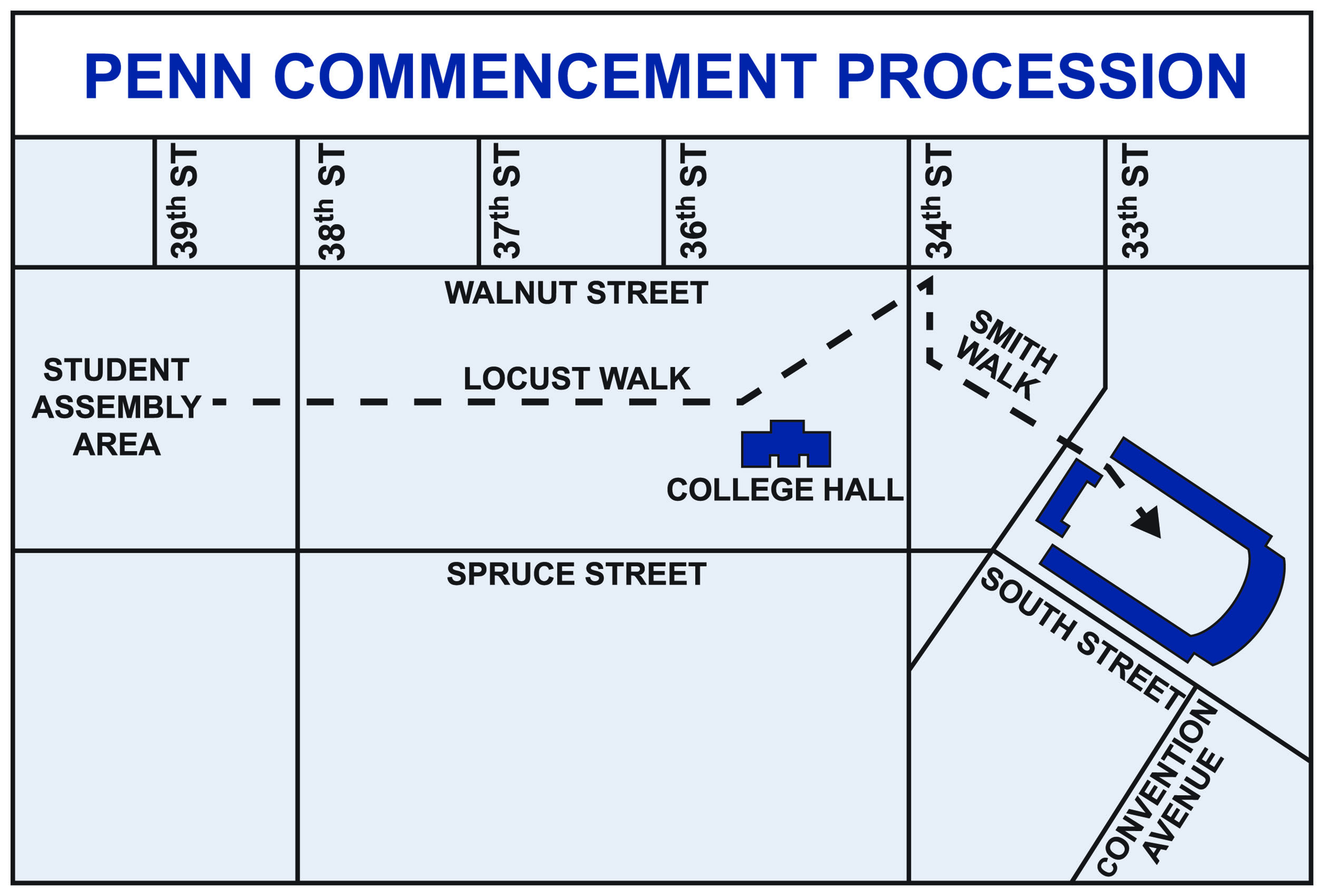 3. Instructions for the Commencement Ceremony
When the academic procession arrives at Franklin Field, please rise and remain standing until the Chaplain finishes his invocation. Please remove your cap during the National Anthem.
During the ceremony, the Provost will acknowledge those receiving various honors, prizes, and awards. If you are being recognized, please rise and remain standing until the completion of his remarks.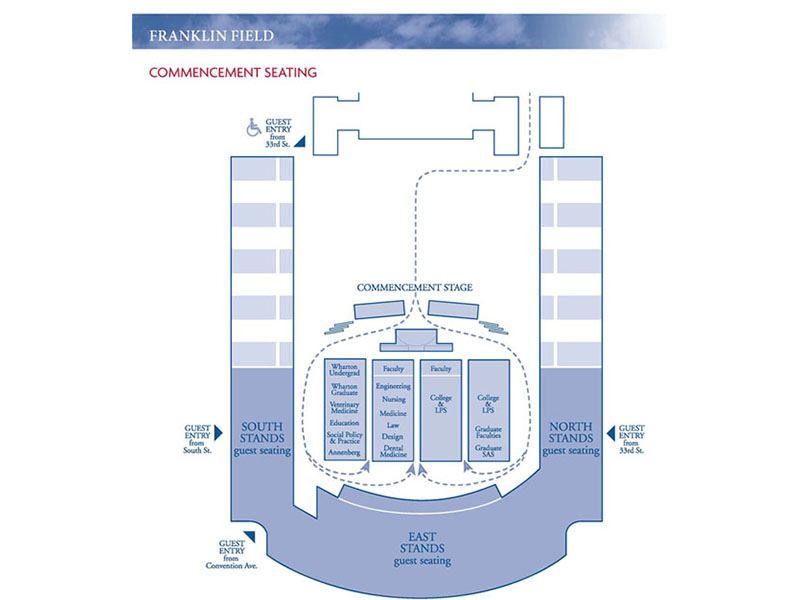 Conferral of Degrees
Your dean will present the candidates for the degrees in your school. When your dean presents your degree, rise and remain standing until the President confers your degree. After all the degrees from your school have been conferred, lift your cap in salute to the President. Then place the cap back on your head, and move the tassel from right to left.
Inclement and Severe Weather Plans
Commencement will be held rain or shine.  In the event of inclement weather, you are encouraged to wear rain gear to protect yourself. The dye in the regalia may bleed onto clothing when wet.
If weather requires changes to the Commencement ceremony schedule, information will be found on:
Signs at 39th & Locust Walk and around campus
Announcements on (215) 898-MELT
Announcements on radio station KYW (1060 AM)
A notice on this website
In the event of severe weather conditions, the academic procession across campus may be cancelled. If it is cancelled, you should arrive at Weightman Hall no later than 9:30 a.m.
In the event of dangerous weather conditions, the ceremony may be delayed or relocated to the Palestra. If the ceremony is moved indoors to the Palestra, seating would be limited to the academic procession and graduating students. Please know that the decision to move the Commencement ceremony indoors would be made in only extreme conditions.
Franklin Field Policies and Prohibited Items
Prohibited Items
The following items are strictly prohibited within Franklin Field:
Alcoholic beverages

Animals or pets, except for service animals

Artificial noisemakers, including airhorns or bullhorns

Coolers

Fireworks and open flames

Glass bottles and cans

Large bags like duffel or equipment bags

Large quantities of food in containers such as pizza boxes or catering trays

Poles or sticks, including camera tripods

Purses or bags larger than 4.5" x 6.5"

Seat backs or bench cushions containing metal, wood, or hard plastic

Smoking in seated areas

Strollers

Weapons, contraband, or any items deemed dangerous or inappropriate
Guests attempting to enter the facility with any prohibited item(s) will be asked to dispose of such items prior to entering. Security personnel reserves the right to deny access to any individual who does not comply with such policies or is deemed a threat to other patrons.
Address & Phone
1 College Hall, Room 211
Philadelphia, PA 19104
(215) 898-7006
Event Contact